Our Camp
Our camp, supported by the non-profit Keepers of Love's Way, is where our tribe (community) lives the dream as we create and share! It provides a place in nature for us to learn, grow, celebrate and co-create.
In our growth, we focus on the heart and appreciation; finding our way back to Love. In knowing the great sovereignty of Love, we are ever reminded that we walk between Heaven and Earth. In this, all things are known and we are given room to grow. We give thanks for the opportunity to create such a thing; we will be vigilant and humble in remembering who we truly are!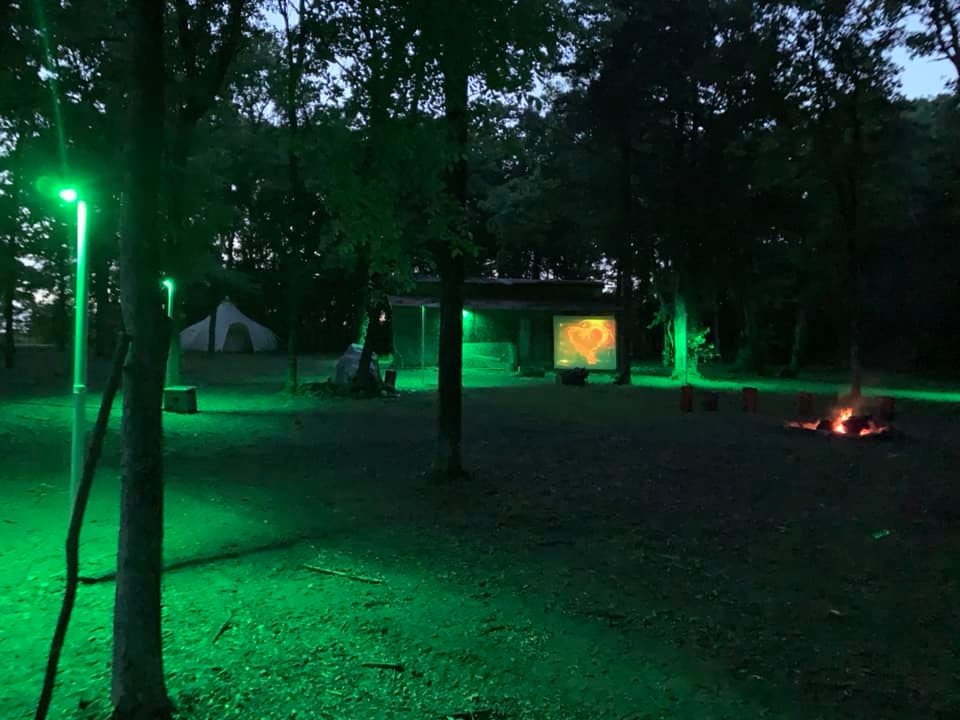 Current Amenities
In this early state we are doing the best with what we have; with the help of community volunteers we've been able to muster up a good start. Any plan to stay here should be a 'primitive' one.
The Circle – Fire pit

Surrounded by a ring of smart lights to make evening gatherings a little safer and colorful. If you see these lights look as if they're playing ping pong, they're actually in predator mode working to ward off would be predators (this works well on the hogs).

The Barn – Cook Shack

Primitive cooking area inside of a cedar pole barn.
Picnic table and views of The Circle.

The Shop – Workshop

This is where we build things, like the picnic table in The Barn.
Camp maintenance equipment as well as maintenance of the camp maintenance equipment happens here (giggle).

Porto Potty

Yes it's sad, but it's what we have for now and we're working to design a camp bathhouse!

Lotus Tent

This is a large canvas tent for workshops and even sleeping sometimes.

The Lake

The lake is fed by a live stream which runs year round.
Beavers and birds of all manner, fish too.
There is a concrete spillway to walk to as well as a peninsula with a fire pit.

Hiking

Although the road is named after our 'Hidden Meadows', there are actually more woods here than anything else.
Explore the meadows, the woods or follow the creek to see where it goes. In between these things you'll find all sorts of life.
Dreams we would like to build
Bathhouse

Design has already been started on this. So far it is a round concept with 4 baths/1 storage. It features compost toilets with running/heated water for showers.

Community Garden
Sewing Shop

We have many sewing crafters in the community making it easy to springboard such an effort. Apart from the learning opportunities, it would be amazing to be able to have this manner of crafting ability in the camp.
Location
Love's Way is located at;
92 Hidden Meadows Ln
Denison, TX 75021