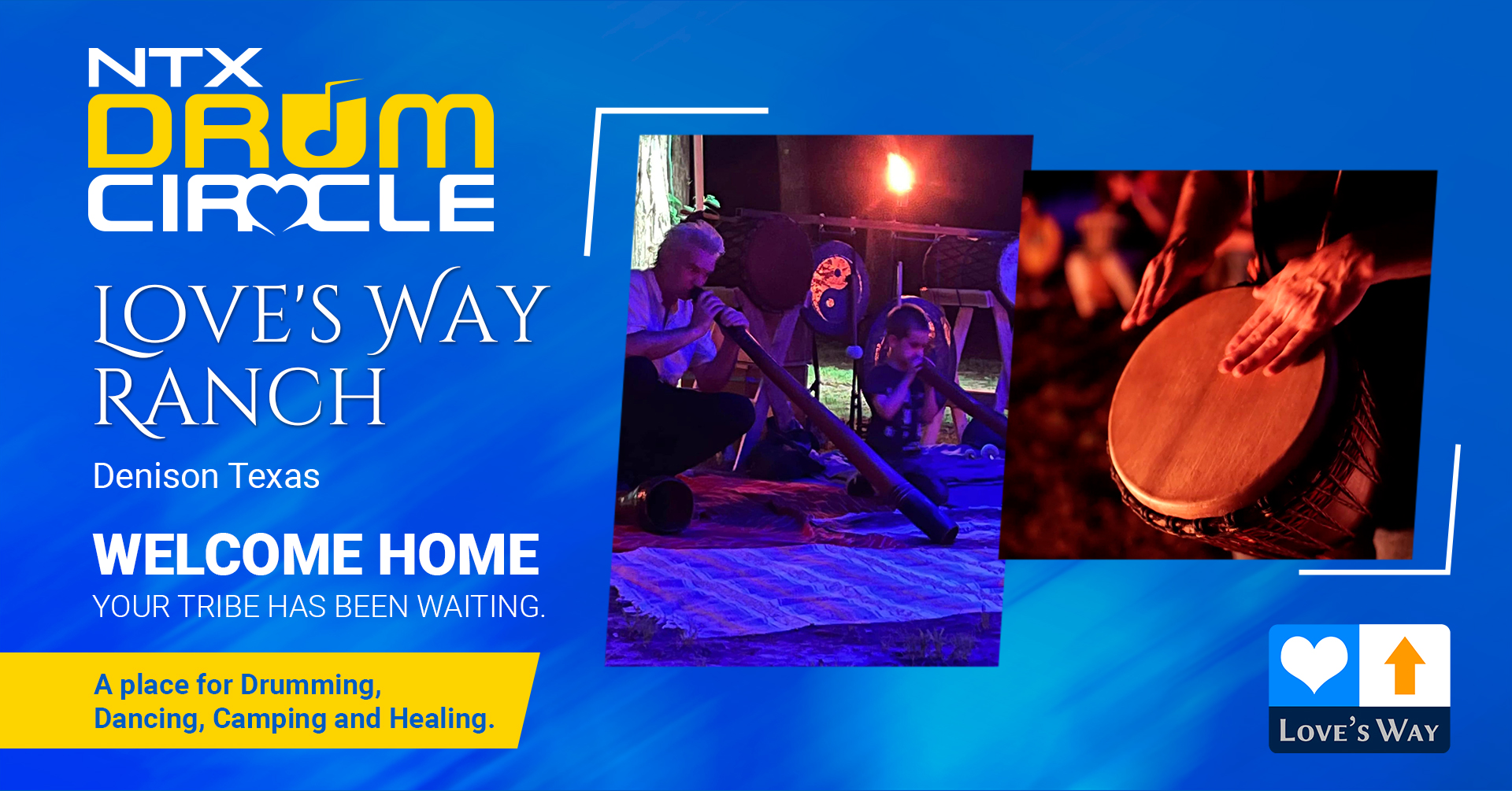 NTX Drum Circle August 13 2022
Welcome home to the child in you, to the remembrance of the majesty found in dancing around the campfire with your sisters and brothers. None of us are perfect and it's easy to get lost in this world, we find our alignment under the banner of Love! We choose to create together and raise the vibration of our world even though we are all different. In this, we create a night of freedom, of heartfelt expression and we would love to have your spirit join us.
Some come to enjoy peace and find respite in a healing vibe, some come to express their hearts fireworks. There is no cost, our campfire is open to all; we're not here for money, but to set hearts free and create a better example of how to treat one another. Bring out your favorite instrument or drum, we have plenty of extra drums if you just want to bring a chair. Later in the evening we go into sound bath mode for 30 minutes; we call this Cascade. Drumming resumes after we enjoy some healing vibrations.
Food and cooking out is part of our celebration. Feel free to bring something for the potluck or even cook out! There is an area set up for food, also a camp coffee pot for those who stay the night.
This monthly campout is set in a sacred woodland, featuring meadows, streams and a scenic pond. Hiking and camping are encouraged. Camping is primitive with a porto potty and a non-potable water hose nearby. Prepare for an outdoor experience with a diversity of wildlife including armadillos, beavers, deer, coyotes, hawks, owls and eagles.
This is a leave-no-trace event! Remember to honor your Mother Earth and pick up after yourself. Leave the land cleaner than you found it. We are honored to spend time in nature and to observe all life here as our sisters and brothers. Be respectful and loving to the other creatures who share the land. Give your gift of consciousness and Love to our Mother Earth. The land will speak to you if you're listening.
Cost: This event is donation based. If you have abundance then please help out by donating what you can. If you are not in a season of abundance then simply come and share in our tribe's abundance and don't worry about cost.
Gates Open: 12:00 noon
Dinner (potluck/cookout): 6:30pm
Openning circle: 8:00pm
Cascade (sound bath): 10:30-11pm
More drumming…
This event follows the moon cycle and happens on the closest Saturday to the full moon.
-= Directions from Denison =-
Take Main St East, this turns into FM120.
Go a half a mile from town and turn Right onto FM1753.
Stay on FM1753 for 2.8 miles and look for the Singletree Rd sign.
Turn Left onto Singletree Rd, this will turn into Oak Ridge Rd.
Continue for 2 miles through some turns, you will see the sign for Love's Way on the Left.
Enter the private drive and go over the bridge, continue and you'll see another gate for Love's Way on the right.
If the gate is open it may be hard to see the sign, it's the 1st gate you come to though.
Drive through the gate and up the hill. There is a turn around at the top of the hill, it's a good idea to turn around and park along the fence/road on the right.